Configuring Display Groups

To populate the windows with connected cameras; click, hold, and drag a camera from the Device List over to the windows. Continue to do this for each camera on the list that you would like to preview. To rearrange the live preview windows, left-click the desired window to move, hold the mouse button down, and drag the window to the new desired location.

Setting up Display Groups from Live View

After rearranging the camera windows, the settings can be saved. To save the configuration:

Right-click anywhere on the live preview windows




Left-click on

Group View&Setting

.




Click on

Save the Current View As

then select which group number you would like to use.



Using Preview Group Setting Menu Option:

Click on Group

View&Settings

on the live preview screen.




Click on Preview Group Setting. The following window will pop up.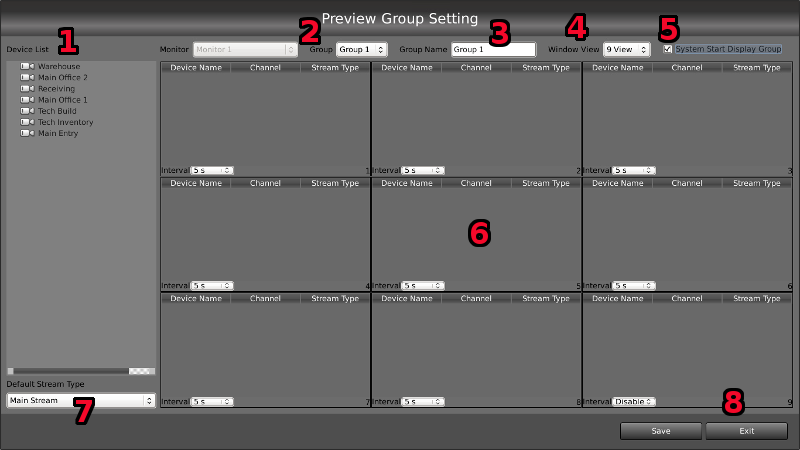 Preview Group Setting Screen

Device List

– Displays all connected devices.




Group

– Used to assign a group number.




Group Name

– Personalize the display group with a name.




Window View

– Allocates the number of windows in the display group .




System Start Group

– Sets the current group to open on start-up.




Window Layout Screen

– This is the layout of the windows and how they will display during live preview. In each window, multiple cameras can be added and rotate on a time interval. To set the time interval, use the Interval option (within each window) and set it to the desired delay time to show each camera image. (For instance, an interval of 30s will display each camera feed for 30 seconds before switching to the next one on the list for that window.)




Stream Type

– This will change the default stream type when adding cameras to the display group. It is recommended to not use main stream on more than 9 cameras when using live preview. This can also be done on an individual window basis by using the stream type option in each window. This, however, does not affect video recording. All recordings will be in mainstream. For any number of cameras over 9, please use the sub stream for live preview. This also does not affect single window view mode. When a camera is double-clicked in live preview, it will go to a single view mode and switch to main-stream if in sub-stream.




Save & Exit

– Saves and exits the group settings.



You can view your display groups by: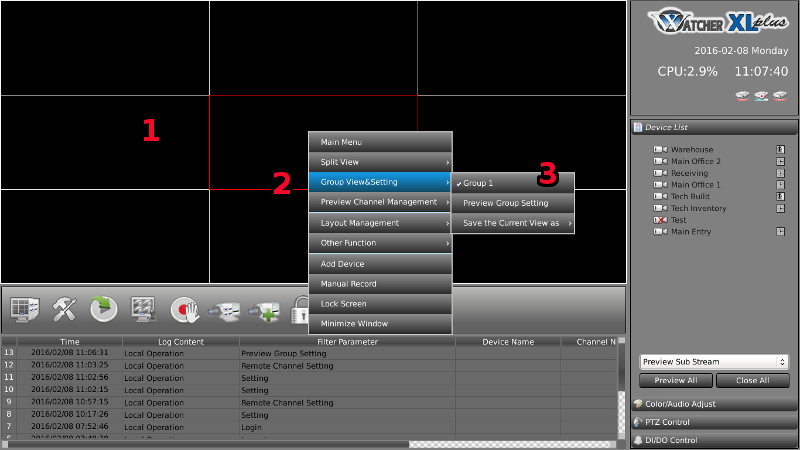 Selecting a Group Preview

Right-click on the Live View screen.




Left-click

Group View&Setting

.




Left-click the Group Number to be displayed.




Or by using the

Group View&Setting

icon from the toolbar (#5 from Watcher XL Plus – Basic Icon Overview)