The main screen of the XL Plus has many different icons. Here is an image of the screen and the definitions of the icons below.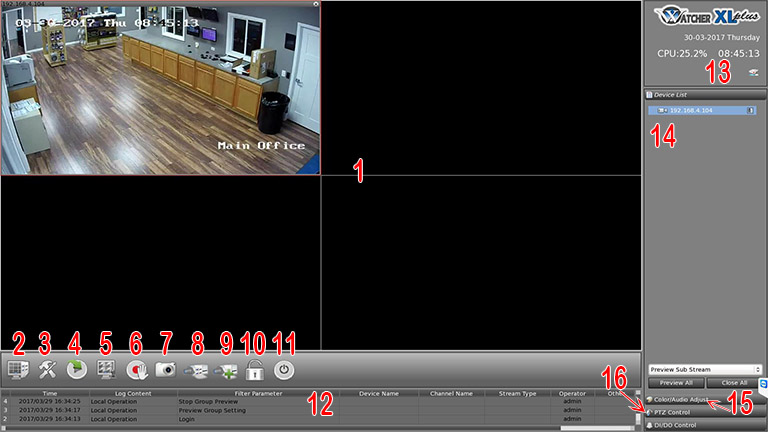 Live Preview Screen

– Displays live video from selected devices.




Split View Button

– Allows you to select how many live screens are displayed.




System Settings Button

– Opens the Settings menu.




Playback Button

– Opens Playback feature for viewing and backing up recorded video.




Group View&Setting Button

– Opens display group settings.




Manual Record Button

– Turn on/off manual recording for all cameras connected.




Capture Image Button

– Takes a snapshot image of the currently selected camera and saves it to the specified location in System Settings. Images can be viewed and copied in Playback.




Channel Setting Button

– Opens the Camera Settings menu.




Device Management Button

– Opens the Device Manager to add a new camera.




Lock Screen Button

– Locks the system and prompts for a username and password.




Power Button

– Shutdown or restart the system.




Log Info Panel

– Detailed log of operations (off by default).




Info Panel

– Details about the CPU usage, time/date, and HDD status. –The HDD has an error. Disk_Formatting_icon –The HDD is formatting. Disk _Empty_icon –The HDD is empty. Disk_Writing_icon –The HDD is writing. Disk_Full_icon –The HDD is full. Disk_Used_icon –The HDD is used but not full.




Device List Panel

– Displays each connected device and its record status.




Color/Audio Adjust Panel

– Allows adjustment of color and audio settings of selected camera.




PTZ Control Panel

– Controls for PTZ cameras.